Realized volatility surges above options volatility for the first time since FTX collapse James Van Straten · 9 hours ago
Bitcoin tends to tumble when realized volatility exceeds options volatility
Definition
Implied volatility is the market's expectation of volatility. Given the price of an option, we can solve for the expected volatility of the underlying asset.
Viewing At-The-Money (ATM) IV over time gives a normalized view of volatility expectations which will often rise and fall with realized volatility and market sentiment. This metric shows the ATM implied volatility for options contracts that expire one week from today.
Realized volatility is the standard deviation of returns from the mean return of a market. High values in realized volatility indicate a phase of high risk in that market rolling window of 1 week.
Quick Take
Realized volatility has just gone above options volatility for the first since FTX collapsed back in November.
Each time this occurs, Bitcoin tends to tumble down in price
Realized volatility exceeded 60%, while options volatility is at 59%
At the beginning of 2023, volatility was multi-year lows for Bitcoin before Bitcoin surged to $21k.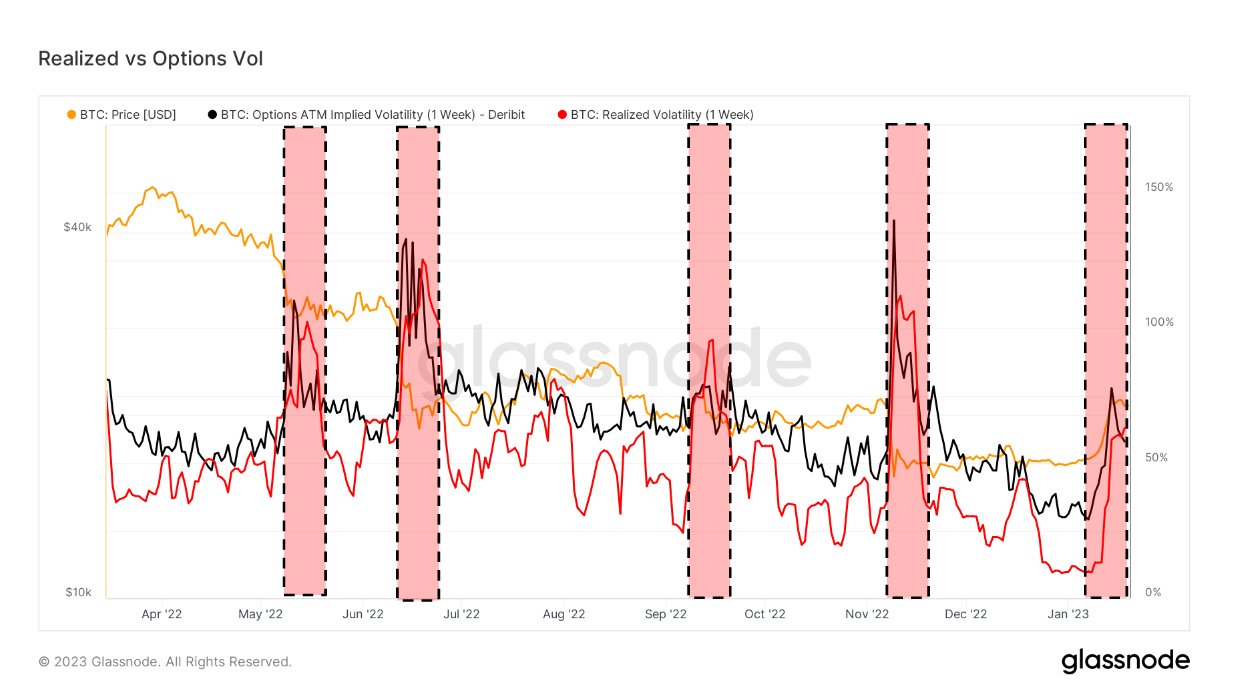 Disclaimer: Our writers' opinions are solely their own and do not reflect the opinion of CryptoSlate. None of the information you read on CryptoSlate should be taken as investment advice, nor does CryptoSlate endorse any project that may be mentioned or linked to in this article. Buying and trading cryptocurrencies should be considered a high-risk activity. Please do your own due diligence before taking any action related to content within this article. Finally, CryptoSlate takes no responsibility should you lose money trading cryptocurrencies.